Venturing Sea Scout Recognition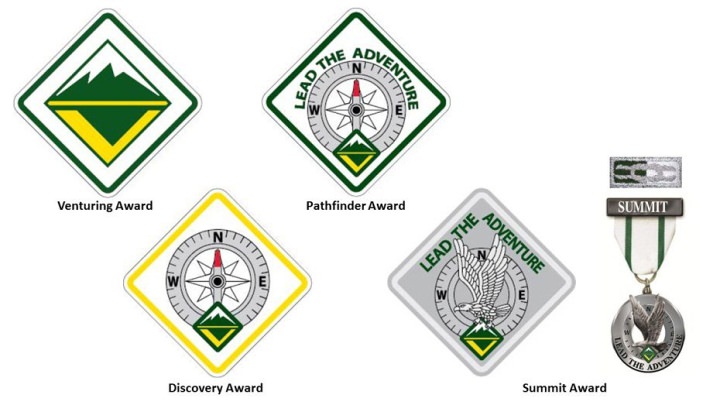 Venturing is a flexible program, and the awards program is designed to help all Venturers, no matter what their crew specialty, to grow and develop.
The four levels of awards are:
VENTURING AWARD
The first step in any journey is the courage to begin. At this level, the new crew member makes a commitment to join and move forward into the experience of Venturing.

Award Focus: Joining

Commitment to a new experience
BSA training on personal safety

DISCOVERY AWARD
The adventure of participating with the crew unfolds, and each Venturer begins to discover his or her interests and talents. As the Discovery Award recipients develop new skills and competencies, their eyes are opened, and the world expands for them.

Award Focus: Participation

Small-group management skills training
Earn first-aid and CPR certifications
Goal-setting training
Time-management training
Minimum of 24 hours of service
Establish and achieve at least one personal goal, including peer and advisor review

PATHFINDER AWARD
The Venturer's capabilities and skills expand, and with them come increased responsibility for defining their own way forward in life, service to others, and formal planning and leadership of the crew toward its goals.

Award Focus: Leadership

Project management training
Plan and lead at least one crew activity of one day or longer
Serve in elected leadership position for six months or more
Experiential training in conflict resolution, communications, group dynamics, cooperation, and ethical controversies
Plan and lead activity to enhance crew sustainability
Plan and participate in service of 36 hours or more
Establish and achieve two personal goals

SUMMIT AWARD
The highest award of Venturing, the Summit Award, goes to those Venturers who have matured in their personal direction, skills, and life competencies, and who have accepted the responsibility to mentor others and serve their communities in a lasting way.

Award Focus: Mentoring

Mentoring and coaching skills training
Mentor a crew member in planning and leadership of crew activity
Serve in elected leadership position for six months
Lead the delivery of small-group management skills and training
Complete advanced leadership training
Plan, develop, and give leadership to community service project
Complete goal development and planning for all realms of personal growth
Create personal code of conduct for review by peers and adult advisors
Lead and guide ethical controversy and conflict resolution discussion with crew
Sea Scouting Quartermaster Award
The Quartermaster Award, which stands for excellence, goes to the young adult who attains the highest rank in Sea Scouts. The award is a reminder that as a ship needs a rudder, a compass, and a moving force to reach its destination, so an individual must be physically strong, mentally awake, and morally straight to achieve worthwhile goals in life. It represents fulfillment. It results from a young adult's determination to reach goals that he or she has set and achieved in spite of difficulties along the way.
The award is rich in symbolism. The blue ribbon stands for loyalty and country. The compass suggests the importance of carefully chosen direction in life. The wheel reminds us that we are the guide of our own future and that we must persevere with self-discipline. The Scout badge, the emblem of purposeful brotherhood, has challenged and strengthened the lives of more than 40 million men. It shows Sea Scouting as an important part of the Scouting tradition. The anchor reminds us that a truly worthy life must be anchored in duty to God.
This badge of color, beauty, and symbolism, but most of all, challenge, awaits every Sea Scout who has the determination to achieve excellence.
Requirements
Ideals. Must lead a discussion on the ideals stated in the Sea Promise and prepare a written analysis of one aspect of the ship's program.
Membership. Attend at least 75 percent of ship meetings and activities for 18 months. Present a talk on Sea Scouts.
Leadership. Conduct a Quartermaster Project and serve as an elected officer or as activity chair for three major events. Command a 40 hour Quartermaster Cruise.

Special Skills. Complete the 11 special skills required for Quartermaster, which include:

Swimming.
Safety
Marlinespike Seamanship
Boat Handling
Anchoring
Navigation Rules
Piloting
Weather
Environment

Electives. Complete four of the following electives: sailing, engine, radio, boat maintenance, electricity, navigation, drill, piloting, rigging, yacht racing crew.