University of Scouting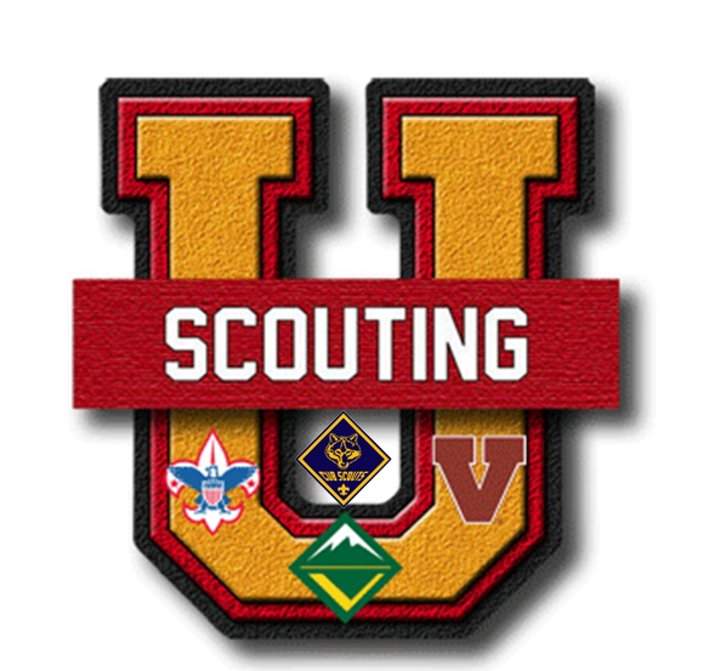 2019 University of Scouting and CYL will be Saturday, November 2nd, 2019!
Mt. Hood Community College
26000 SE Stark St.
Gresham, OR 97030
Click Here for University of Scouting Resources from 2018 University

What is University of Scouting?
University of Scouting is designed for all adult leaders in the Boy Scouts of America regardless of function or program area. It is an event packed with fun, ideas, and fellowship. You choose the sessions you wish to take. Sessions are led by experienced volunteers who will help you enhance your ability to deliver a fun and exciting program to the scouts.
What kind of classes are offered?
Note: Below is information from the 2018 event.
Just about anything to do with Scouting! Whether you are a new or veteran Scout Leader or a Parent, you will find what you need!
Over 100 classes to choose from including 26 new classes! Classes include:
Disaster Preparedness
Everything you need to know to Be Prepared! Topics include: Disaster Response, First Aid/CPR, Fire Safety, Light Search and Rescue, and Go Bags.
How to Best Serve Youth with Special Needs - NEW!
Find out how you can most effectively support our scouts with Autism, ADHD, and other disabilities and challenges. These Scouts can be successful, make friends, have fun, and be a vibrant part of your Scouting unit - and you can help make that happen!
The Latest on Family Scouting - NEW!
Family Scouting is here! Find out the latest information: what we know right now, timelines for Scouts BSA Troops, and planning for new units!
Cub Scout Adventures Courses
Tiger Adventures, Wolf Adventures, Bear Adventures, Webelos Adventures, and Arrow of Light Adventures will give you great ideas!
How to Have a Fantastic Join Night - NEW!
Learn how to have an absolutely fabulous Join Night, where your scouts AND your latest recruits will have fun,and build camaraderie. Get those new scouts signed up and excited for your upcoming Den and Pack meetings - it works!
Advanced Games with a Purpose
This class will cover the four essentials of interpersonal relationships which leaders must be aware of, and leverage, to build strong teams. It will consist primarily of some fun exercises and group discussion.
Program Planning for New Troops - NEW!
Okay, so you've got a shiny new Scouts BSA Troop - now what? What should we do, where should we go, how do we do it? Learn how to plan a fantastic program for your new Troop, and how to keep those new scouts engaged and excited about scouting!
OA: How to ACTIVATE Your Older Scouts - NEW!
Once Scouts reach mid-teens, many lose interest, miss meetings, and eventually drop out. This class will suggest ways to re-connect your older Scouts with scouting, such as through involvement with the Order of the Arrow, Summer Camp staffing opportunities, Venturing and Sea Scouts, and BSA High-Adventure Bases.
How Parents Can Help Their Scout with Advancement
"It is not just patches…" is important for parents to understand. The aims and purposes of the Scouts, BSA advancement program lend themselves to many do's and don'ts for parents that are very different than the Cub Scout program. Learn how to help your troop's parents support their scouts up the "trail" without going out of bounds.
Jamboree! Why You Should Go! - NEW!
World Jamboree in 2019 and National Jamboree in 2021 are excellent once-in-a-lifetime opportunities! Learn more about what to expect, how to get there, and why you (and your youth) should go!

Knots & Lashings, Map & Compass, Dutch Oven cooking and MORE!

Bring your Scout to the College of Youth Leadership!
The College of Youth Leadership (CYL) is a leadership training put on by Wauna La-Mon'tay Lodge. CYL is open to any Boy Scout 11+, Venturer, or Sea Scout who wants to come – Arrowman or otherwise. CYL isn't just for experienced scouts – any scout, regardless of leadership experience or ability, is welcome. At CYL, leadership skills are taught in a hands-on environment through games and interactive classes. Click Here for more information.

University Schedule
Check-In: 7:30AM - 8:15AM
Opening Ceremony: 8:30AM
Classes (5 plus lunch) 9:00AM - 3:50PM
Closing Ceremony: 4:00PM

University of Scouting on Facebook!