Order of the Arrow - Wauna La-Mon'tay Lodge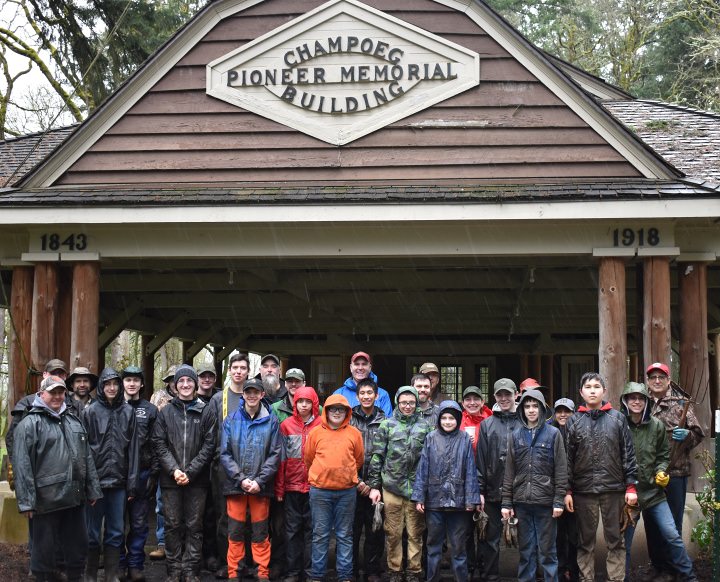 Welcome, Arrowmen
Wauna La-Mon'tay Lodge of the Order of the Arrow is an integral part of the programs of Cascade Pacific Council. Members of Wauna La-Mon'tay provide thousands of hours of service every year to Cascade Pacific Council's camps and members. From Community Service Projects to serving on outstanding Camp Staffs, our lodge's Arrowmen make up the best youth our council has to offer.
The purpose of the Order of the Arrow is fourfold:
To recognize those Scout campers who best exemplify the Scout Oath and Law in their daily lives
To develop and maintain camping traditions and spirit
To promote Scout camping
To crystallize the Scout habit of helpfulness into a life purpose of leadership in cheerful service to others
Annual Unit OA Elections
It is that time of year again to for your annual Order of the Arrow election.. Electing a Scout or Scouter to the Order of the Arrow is an excellent way for Scouts to honor a peer or leader that best exemplifies Scouting's ideals of camping, servant leadership, and teamwork. Elections are conducted by a team of OA youth members from your District, or OA Chapter.
To Schedule Your Election:
Contact your unit's OA Rep,or your districts OA Chapter Chief or Adviser. OR email the Wauna La-Mon'tay Membership Vice Chief. You can also request an Election for your Unit online. Click on the "Request Unit OA Election" on this page under ORDER OF THE ARROW LINKS.
This is also a great time to schedule your Webelos Crossover!
---
Event Registration
These items and events are currently available for registration and/or purchase:
NOTE: Online Event Registrations close the Wednesday before the event you can still attend by emailing Lodge Adviser Dick Phillips dphillips@onlinemac.com and then pay Friday evening when you arrive. Most of our events are at locations without internet. If you make and online payment at the last minute, PLEASE HAVE A COPY OF YOUR RECEIPT TO PRESENT AT CHECK-IN.
2020 Vigil Induction (limited to current Vigil Members and Candidate for the Vigil Honor)
The Vigil Honor is the highest honor the Order of the Arrow can bestow upon its members. This induction event at Camp Lewis is for all 2020 Vigil Honor candidates and current Vigil Honor members. (5/8/2020 - 5/9/2020) REGISTER HERE
2020 Induction Weekends
Candidates, congratulations on your election into our Order! Before you can become an official member of the OA, you need to complete your Ordeal at a Lodge Induction Weekend where you will have an opportunity to rededicate yourself to the ideals of Scouting. You can attend any one of the five Induction weekends planned for 2019. Current members, thank you for your interest in attending and supporting our new Ordeal Members. To register, please select the Induction Weekend from the list below that you will be attending.*
Meriwether Induction Weekend (5/15/20 - 5/17/20) REGISTER HERE
Baldwin Induction Weekend (5/29/20 - 5/31/20) REGISTER HERE
Lewis Induction Weekend (6/5/20 - 6/7/20) REGISTER HERE
Pioneer Induction Weekend (6/12/20 - 6/14/20) REGISTER HERE
Butte Creek Induction Weekend (10/9/20 - 10/11/20) REGISTER HERE
*Induction season passes are also available for members and ordeal ceremonialists giving you access to all five ordeals. If purchasing a season pass please register for the ordeal that you will be attending first.
NOAC (National Order of the Arrow Conference) 2020
NOAC is an event that is somewhat similar to the Boy Scout Jamboree, but for OA members only. We stay in university dormitories. Meals are in the student dining facilities, so there is plenty of time for fun and activities. NOAC is open to all active Arrowmen and only happens every two years. Wauna La-Mon'tay Lodge has a tradition of a "fun day" before NOAC. Our activities for this adventure will be planned by the youth leadership of the Lodge and details will be made available soon. We would love to have you join us! (8/1/20 - 8/8/20) REGISTER HERE
---
NOAC 2018 Collector Patch Set
Wauna La-Mon'Tay Lodge is proud to present our 2018 National Order of Arrow Conference Collector Set. The proceeds from the sale of these sets will help offset the cost for our youth to attend the 2018 National Conference. The patch sets features scenes from the 4 ceremonies of the Order of the Arrow. Only 100 sets will be made available to the public, and will be sold on a first come, first serve basis. To place an order online, CLICK HERE.
---
Downloads
| File Name | Description | |
| --- | --- | --- |
| 2020 Lodge Calendar | Printable 2020 Lodge Calendar. All Lodge events are on one page for quick reference. The Calendar is formated to print double sided, then cut in 1/2 for a handy size. | Download |
| ELECTION - Unit Elections Made easy | Information for Unit Leaders and OA Election Teams for a successful Troop Election | Download |
| ELECTIONS - Adult Candidate Nomination Form | Form to nominate adults at a unit election. | Download |
| ELECTIONS - Unit Election Report | Election report sheet to keep track of elected youth from a given unit. | Download |
| ELECTIONS - Unit Election Training Presentation | An in depth guide to running a unit election. | Download |
| Event Resources | Event Participants must bring a completed BSA Medical Form Part A and B to participate. These forms are not retained by Wauna La-Mon'tay Lodge. Participants can pick them up at the end of events or the forms will be shredded. | Download |
| Leadership in Service Award | Tracking sheet for Leadership in Service Award. | Download |
| Leadership in Service FAQ | Frequently Asked Questions for the Leadership in Service Award. | Download |
| LODGE LEADERSHIP INTEREST FORM | If you are interested in helping lead Wauna La-Mon'tay Lodge please complete this form. This application is for youth to express an interest in Lodge leadership. | Download |
| LODGE OFFICER POSITION DESCRIPTIONS | Responsibilites of the 6 Lodge Officer Positions. Our Lodge officers are elected at Rendezvous (first weekend of March) and lead the lodge from May 1st thru April 30th each year. Leadership of a lodge our size take dedicated and responsible leadership. Along with that responsibility is a wonderful opportunity to affect the future of our truly great organization. | Download |
| Lodge Standing Rules | The Lodge Standing Rules are the rules that govern our Lodge and our standard operating procedure. | Download |
| OA Arrowcorps FAQ | | Download |
| OA Unit Visit Resources | Information designed for Units to prepare for their annual Unit Visitation | Download |
| Paper Membership Renewal Form | Members may renew their OA membership using a paper form or online. This paper form may be more convenient if you need to renew several persons. To do so, attach a list of members to be renewed, including any changes to address/phone/email so that the lodge is mailing to correct addresses. | Download |
| Unit of Excellence Award | FULL description of the Order of the Arrow Unit of Excellence Award. | Download |
| VIGIL 2019 Eligible List | Current Arrowmen that are Eligible for the Vigil Honor (2019 dues paid) Nomintations are only accepted electronically on the downloadable PDF form | Download |
| VIGIL Nomination Form | Form for nomination of Arrowmen for the Vigil Honor. PLEASE FOLLOW THESE DIRECTIONS Please email the completed form to vigilnomination@gmail.com no later than November 24, 2019. Be sure to save the completed form as a pdf, then attach the pdf to your email. Subject line of the email should have the nominee's name. Please attach a photo of the person you nominate to your email | Download |
| Where to go Camping Guide | The lodge has developed a resource for Scouting leaders - a guide of camping destinations for unit camping activities. | Download |