Campers engaged in outdoor learning stay in Scouting longer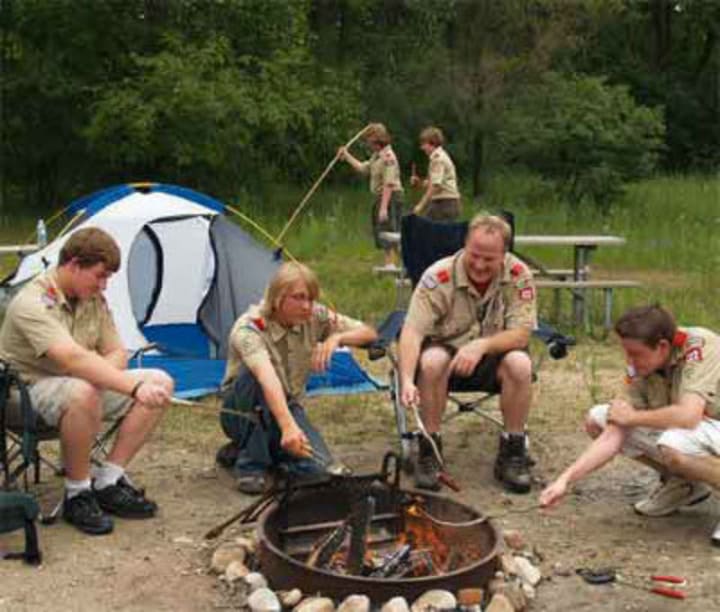 In 1995, Louis Harris & Associates released findings from a study titled The Values of Men and Boys in America, which concluded that Scouting has a measurable positive impact on the attitudes and opinions of its members.
Additionally, the study found that outcomes of a long-term Scouting experience (5+ years) can still be identified years and even decades later. The initial values study resulted in two new questions:
Does Scouting benefit members who stay in the program as little as one year?
What specific elements in the program result in these positive outcomes?
Harris researchers were asked to address these issues and responded with a twelve-month study titled A Year in the Life of a Cub Scout . . . Boy Scout . . . Venturer. The study concluded that in a single year, the Scouting program delivers members experiences in six critical areas of healthy youth development*:
Strong Values and Character
Positive Sense of Self-Worth
Caring and Nurturing Relationships
Productive & Creative Use of Time
A Desire to Learn
Social Adeptness
*Derived from Search Institute and Carnegie Council on Adolescent Development
These critical areas of healthy youth development are at the core of what makes Scouting a change agent in the lives of its members.
Scouting contributes significant time and resources to summer camps around the country. Therefore, the organization believes it is important to gain an objective understanding of the outcomes of summer camp experiences in the lives of members. Harris Interactive was challenged with developing and implementing a research design that would provide a thorough evaluation of Scout summer camps. More specifically, their goal was to measure the extent to which those camps deliver the elements of healthy youth development.
From 106 Scout summer camps across the United States, the following three groups were surveyed:
Boy Scouts: 10,034 on-site daily journals completed by Scouts.
Scout leaders: 4,491 post-camp surveys among randomly selected leaders who attended one of these camps.
Parents of Scouts: 5,299 post-camp surveys among parents of Boy Scouts who attended summer camp.
Scouts indicate that summer camp is more than just a place to have fun. It also offers opportunity to participate in physically and intellectually challenging activities, and introduces youth to new and rewarding experiences.
This study infers that positive outcomes of Scout summer camp occur because environment and activities at camp incorporate elements of healthy youth development:
Strong Personal Values and Character. Reflective and thought-provoking activities are one avenue through which summer camp helps build strong values and character.
Positive Sense of Self-Worth & Usefulness. Summer camp helps to instill a positive sense of self-worth and usefulness in young people by providing them with service opportunities, as well as positive peer-to-peer and intergenerational communications. In addition, summer camp helps to build young leadership skills and confidence.
Caring and Nurturing Relationships with Parents, Other Adults, and Peers. Summer camp builds caring and nurturing relationships by engaging young people in group activities with both peers and adults. Strong bonds of friendship are developed at camp.
A Desire to Learn. Summer camp inspires young people to think about nature and consider the environment.
Productive & Creative Use of Time. Summer camp offers a valuable mix of both physical and intellectual activities.
Social Adeptness. Summer camp offers young people opportunities to participate in and contribute to team-building activities.
Overall, parents speak highly of and appear very impressed with Scout summer camps. Nationally, 93 percent of parents say their son's summer camp experience met or exceeded their expectations. Almost all (96 percent) say they would recommend Scout summer camp to others. Leaders enjoy and appreciate their time spent at Scout summer camps. Nationally, 94 percent of leaders say they met all or some of their goals, and 53 percent say their experience was better than they thought it would be.
Leaders who attend Boy Scout summer camp overwhelmingly agree that camp offers benefits:
Played a role in helping young people succeed/grow
Helped youth realize their own abilities
Built friendships with youth
Cascade Pacific Council camps are well known nationwide for providing outstanding program while sharing values and positive role models.
[ Originally published in the summer 2006 edition of CPC Times. ]
---
View additional Scouters' Blog articles