Lewis & Clark: Roundtable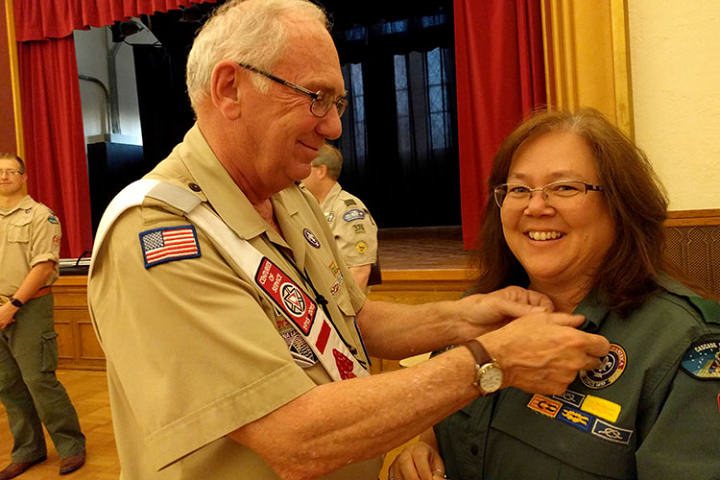 At the May 2016 Roundtable, District Commissioner John Foster recognizes Daydra Blackburn's 10th year organizing the wildly popular Merit Badge University.
All Scouting Adult Leaders, Venturing, and Order of the Arrow Members are invited to attend the quarterly Lewis & Clark District Summit events (formally known as Roundtable).
These Summit events focus on themes relevant to the annual Scouting calendar including Recharter, District Fundraising, Camporee, and District Recognition Dinner.
All Scout leaders, committee members and parents are welcome to attend, and all will find something of interest to their Scouting experience.
When:
November 11th, January 16th, March 12th, May 14th
Where:
Locations vary for each Summit. Announcements are sent via email to all unit leaders prior to each event.
---
| File Name | Description | |
| --- | --- | --- |
| 2015 0515 aviation day flier revision.pdf | Informational flyer for the May 15 Aviation day event. | Download |
| 2015 0705 nylt flyer.pdf | NYLT is a six day youth leadership training course where the concepts of what a leader must BE, what he must KNOW, and what he must DO is taught, demonstrated, and lived in the out of doors in a troop and patrol setting. Immediate use of new ideas is stressed in a fun atmosphere based on the principles of Scouting. | Download |
| 2015 0912 mud mayhem save the date.pdf | This is a fun-filled day of being a kid and getting as dirty and muddy as you can while completing a specially-designed course of obstacles. This is a don't-miss event for any kid, young or old! | Download |
| 2015 camp work weekends .pdf | Each camp property needs lots of help to recover from winter damage and to get ready for camp - and each has 'work weekends' so that troops, families, and other groups can lend a hand. | Download |
| 2015 memorial labor day weekend flyer.pdf | Fancy a holiday weekend campout for your family? Take your family to Camp Meriwether for a fun, relaxing family weekend on Memorial Day weekend or Labor Day weekend. | Download |
| 2015 noac fundraising flyer.pdf | Purchase a special edition NOAC patch set and help support our contingent to the National Order of the Arrow Conference in summer 2015. | Download |
| 2015 portland thunder group savings.pdf | Group pricing for the Portland Thunder arena football team. | Download |
| 2016 Cub Day Camp Flyer | | Download |
| 2017 national jamboree flier.pdf | National Jamboree is a once-in-a-lifetime event for most Scouts, and we're already signing up Scouts for the 2017 jamboree trip. This flyer has details for anyone interested. | Download |
| Emergency Preparedness Meriting with the Experts Event Flyer | | Download |
| fred meyer community rewards.pdf | Do you shop at Fred Meyer? Do you love Scouting? Combine the two by linking your Fred Meyer Rewards Card to Cascade Pacific Council, and you'll be supporting Scouting every time you shop - at no additional cost to you. Thank you! | Download |
| motor vessel reliant.pdf | The MV Reliant Sea Scout vessel is available for half-day, full-day, overnight excursions and more for Scouting units and other groups. | Download |