Advancement Academy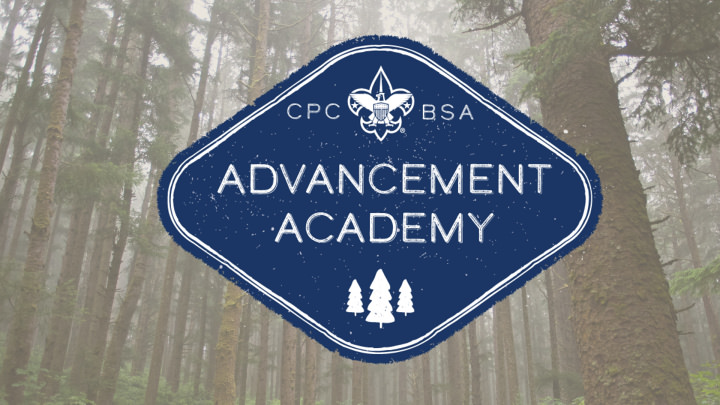 Your Virtual Resource for Keeping Scouts Advancing, Connected & Having Fun During the COVID-19 Crisis & Beyond

We're not letting COVID-19 stop us from Scouting! That's why we've created the Advancement Academy. We're lining up merit badge counselors, advancement experts and fun activities for you and your Scouts! Here you'll find webinars, resources, tools and more for your Scouts to keep achieving, growing and advancing in Scout skills. (Note: webinars use Zoom. Never used it? Please see this tutorial to learn how to join a meeting.)
Virtual Merit Badge Steps:
Register for one of the merit badge webinars below. (These are webinars to 'kick off' the process. Most merit badges will have follow-up webinars to help the Scouts and get approvals.)
Email your Scoutmaster for approval to begin the merit badge and so your advancement chair can log your activity in Scoutbook or by other means. (Scoutmasters can sign the Blue Card upon completion. The email approval will suffice for this process.)
After the webinar, you may begin your work on the merit badge. (Counselors will provide digital workbooks and activities during the kick-off webinar. Some requirements may even be completed during the first webinar.)
Complete the requirements per the Counselor's instruction. Some Counselors may have you send confirmation of your work and set follow-up group webinars
You'll receive a signed copy of your completed Blue Card from the Counselor (or the CPC) via email to receive your merit badge.
NOTE: due to the overwhelming excitement around this program, Scouts will receive a gridsheet of your accomplishments as approved by the merit badge counselor. (View sample.) Your Advancement Chair or Scoutmaster can enter the accomplishments into Scoutbook or create a Blue Card, whicheve way your unit prefers.
Featured Sessions:
How to Run Successful Digital Scout Meetings (recording | presentation): Troop 19 Scoutmaster David Parry showed us how his troop is having great success with online meetings to keep his Scouts connected, advancing and having fun!

Upcoming Sessions at the Virtual Advancement Academy:
Digital Den Meetings: all Cub Scouts (and parents) are welcome to join us Wednesday nights for fun during council-wide digital den meetings! (Watch our first Digital Den Meeting here.)

Merit Badge Sessions
While researchers work to knock out the corona virus, we want to help your Scouts knock out some merit badges! We're working with counselors across the area to set up virtual merit badge counseling sessions. Our goal is to get Scouts to the finish line and get blue cards in hand with these virtual sessions:
Family Life: Monday, March 23rd, 2020 at 10 a.m.
Communication: Tuesday, March 24th, 2020 at 10 a.m.
Public Health: Wednesday, March 25th, 2020 at 1 p.m.
Pets: Thursday, March 26th, 2020 at 1 p.m.
Athletics: Monday, March 30th, 2020 at 3 p.m. : REGISTER TODAY
Citizenship in the World: Tuesday, March 31, 2020 at 3:00 p.m. : FULL
Photography: Wednesday, April 1st, 2020 at 1 p.m. : REGISTER TODAY
Citizenship in the Nation: Thursday, April 2nd, 2020 at 3 p.m. : REGISTER TODAY
Reading: Tuesday, April 7th, 2020 at 1 p.m. : REGISTER TODAY
Cooking: Thursday, April 9th, 2020 at 1 p.m. : REGISTER TODAY
More Counselors Wanted!
Our marketing team will work with you to create a successful session. All we need is your energy, passion and expertise! If you're interested, please contact our maestro of Merit Badge University, Daydra Blackburn.