CPC Adult Leader receives Finley Award in Orlando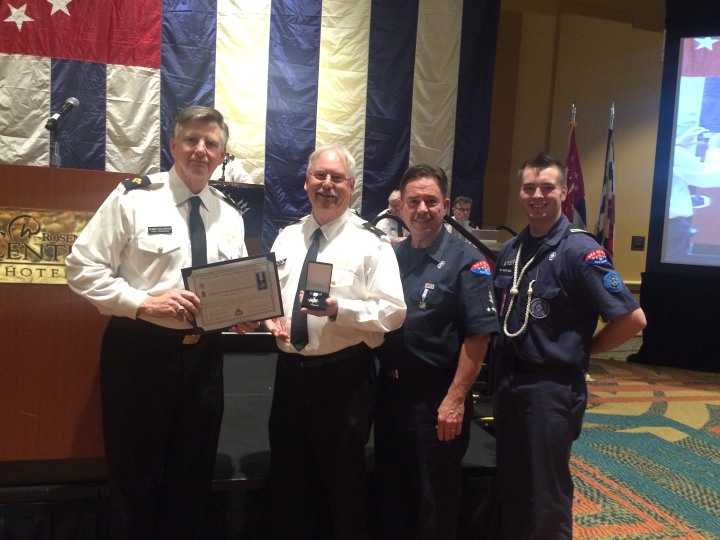 A Story by Adam McDonald
Cascade Pacific Council Adult Leader Neal Smith received the Finley Award in Orlando at the National United States Power Squadron meeting on February 20th. Smith is a current Mate—a Sea Scout term similar to that of an Assistant Scoutmaster—for Ship 202 Déjà vu, and has served as Cubmaster, Scoutmaster, as well as a plethora of other Adult Scouting positions.
The Finley Award (United States Power Squadrons Raymond A. Finley, Jr. Sea Scout Service Award), according to the U.S. Scouting service project, "recognizes those members and honorees of the US Power Squadrons who are also youth or adult Sea Scout leaders, and who have provided outstanding civic, educational, and fraternal leadership to both the Sea Scouts and the US Power Squadrons, through civic involvement, educational achievement, and active participation in both programs."
Neal Smith is an Eagle Scout, and transitioned to being an Adult Leader after he turned 18. Soon after Smith graduated from Oregon State University he began taking classes with the United States Power Squadron. "I had been sailing as a youth in the San Francisco bay in high school," Smith said. "I have never owned a boat but enjoyed the power squadron. It was actually my power squadron that told me about Sea Scouts!" Initially, with all he was doing with the Boy Scouts, Smith was hesitant about getting involved with the Sea Scouts; but then his daughters expressed interest in the program. "So I jumped in with both feet! That was over a dozen years ago and they have long since graduated out of the program… I love being able to combine my love of scouting with my love of boats!"
Smith started off as a Mate with the Sea Scouts, and when the original Skipper of the ship had to back out of the program, Smith took over. "After a number of years as Skipper, I was able to turn that position over and moved back to a Mate but then was able to add Sea Scout District Training Chairman to my roles. Both positions I continue to hold today." On top of that Smith also staffed Seabadge in Hawaii and San Diego, helping Adult Leaders get management and leadership training, much like Wood badge.
For Smith, he says that both programs "[Have] greatly enriched my life! While helping young people become successful citizens is wonderful, the bigger picture is making the world a better place. I do this via training/education (myself and others), community service and putting it into practice, and I love the boating part!"