Introducing the Director and Council leader for the 2021 Council Contingent to the National Jamboree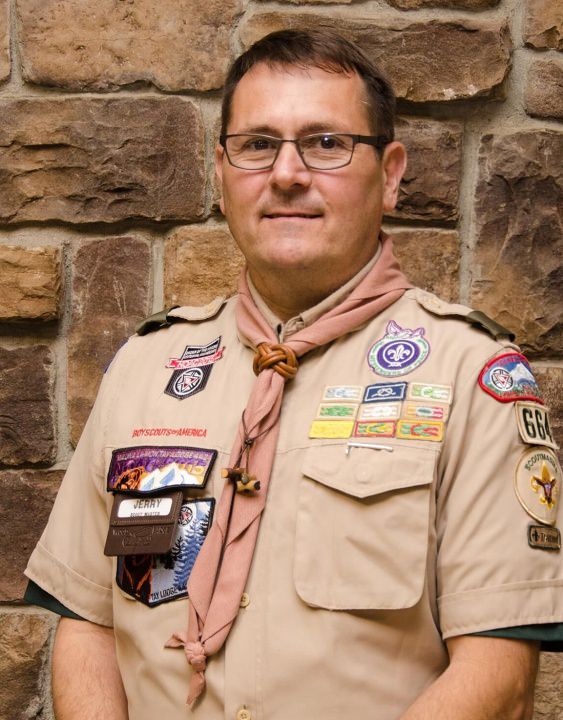 Jerry Schleining Jr. has been a lifelong Scout and Scouter. He started Scouting like many young men as a Cub Scout and has stayed in Scouting in some way since then. He reconnected as an active Scouter when his oldest son brought home "the flyer". It's been a fantastic experience since.

Jerry has served in many capacities in Scouting:
Served as Pack 717 as a Den Leader, Cubmaster, and Pack Trainer.
Served Troop 664 as its Scoutmaster from its start in 2004 through 2018
In 2010 Jerry served as a Jamboree Scoutmaster for the 100th Anniversary of Scouting Jamboree
Attended Wood Badge in 2005 and fell in love with training. He has served on many Wood Badge staffs and was a Course Director in 2017.
Trainer at the Council and District levels and works to build strong teams and leaders that are equipped to serve the youth in the Scouting Program.
Introduced the Vertical Scouting program to the Cascade Pacific Council and mentors leaders in building vertical units growing members and sustaining programs.
Served at the District level as the Program Chair and Chairman of the Thunderbird District
Is also a Roundtable commissioner
Associate Advisor for the Thunderbird Chapter of the Order of the Arrow. Jerry is a Vigil member of the Order.
Honored by being presented the Silver Beaver and District Award of Merit.
Awarded the National Eagle Scout Associations Scoutmaster Award of Merit.
Scoutmaster and District Keys as well as well as Scoutmaster and District Training.
Member of the James E. West Fellowship and Scouting Heritage Association and has been recognized in Scouting with other awards and honors.
Jerry has a passion for Scouting and loves all aspects of the program. He looks forward to again serving the Council as the Director and Council leader for the 2021 Council Contingent to the National Jamboree.
For more information on joining the 2021 Jamboree contingent follow it on Facebook or visit the Jamboree 2021 page on this website.