Welcome
Jump to: Pay your Dues | ArrowTour | NOAC 2015 | Conclave | Voice of Brotherhood
Wauna La-Mon'tay Lodge of the Order of the Arrow is an integral part of the programs of Cascade Pacific Council. Members of Wauna La-Mon'tay provide thousands of hours of service every year to Cascade Pacific Council's camps and members. From Community Service Projects to serving on outstanding Camp Staffs, our lodge's Arrowmen make up the best young men and women our council has to offer.
Order of the Arrow anniversary tour stopping in Portland!
The Order of the Arrow is turning 100 in 2015, and the rolling ArrowTour anniversary celebration will be at Scouters' Mountain Nature Park on Tuesday, June 30 from 2-7pm.
This FREE event is open to the public, and we encourage all Scouts, volunteers, and alumni to join us for displays and videos, games and other activities such as silk screening and hat/belt branding, all highlighting 100 years of the Order.
If you're an Arrowman, this is your opportunity to get closer to achieving the Arrowman Service Award - one of the few patches to be approved for wear on the OA sash. Details at http://www.oa-bsa.org/p…/content/centennial-update-2014-07-3
Part of the National ArrowTour activities will be silkscreen printing. If you would like to print your own commemorative t-shirt, you can bring a shirt with you (ink colors will be white and red), or purchase a shirt from our on-site trading post. There will also be branding, so if you would like a commemorative ArrowTour brand on you belt, be sure to bring it along.
For more information about ArrowTour, visit http://arrowtour.oa-bsa.org
The purpose of the Order of the Arrow is fourfold:
1. To recognize those Scout campers who best exemplify the Scout Oath and Law in their daily lives
2. To develop and maintain camping traditions and spirit
3. To promote Scout camping
4. To crystallize the Scout habit of helpfulness into a life purpose of leadership in cheerful service to others
Renew OA Membership - Click to renew online -
EVENT REGISTRATION: These lodge events are currently available for registration:
2

015 NOAC Collector Set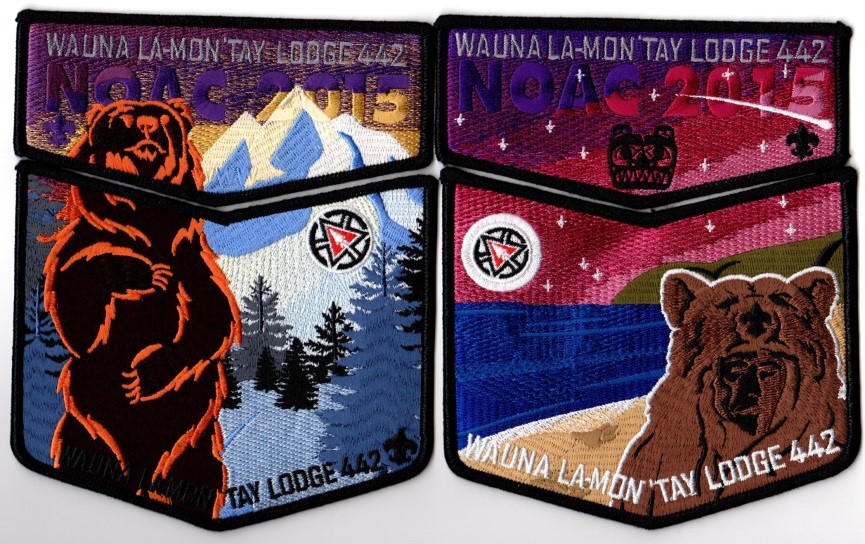 Only 200 sets will be made available to the public, and will be sold on a first come, first serve basis.

Limit of 5 sets per person.

Each set is $30.00 and include both two piece sets shown above.

$2 will be charged for shipping
Patches will be mailed to you upon completion of your order. ORDER HERE
2015 National Order of the Arrow Conference
The National Order of the Arrow Conference (NOAC) is the premier event of the Order of the Arrow, and is Scouting's second-largest national event. Over 10,000 Arrowmen from across our nation gather for an inspirational and unforgettable experience full of fellowship, training, adventure, and fun!
During NOAC, Arrowmen will participate in a six-day conference which includes top notch training sessions, cool recreational opportunities, evening shows full of theatrics and special effects, and exciting programs.
The 2015 NOAC will be held from August 3-8, 2015 at Michigan State University in East Lansing, Michigan, and will celebrate the 100th anniversary of the Order of the Arrow. Arrowmen can travel to NOAC with a contingent from their lodge, or as a staff member supporting the thousands of Arrowmen attending in the conference.
Adult Application | Youth Application
---
May 8th - 9th, 2015 at Camp Lewis
---
Western Region ArrowTour

ArrowTour is scheduled to be at the top of the park on Scouters' Mountain. It will be on Tuesday, June 30th from 2-7 pm.
If you are a member of the Lodge Contingent for NOAC 2015, we will be having a contingent meeting immediately following the event.
---
September 11th-13th, 2015 at Hoodoo Ski Resort in Sisters, OR
More info coming soon
Registration not available yet | Section Website | Patch Design Competition
---
2015 Ordeals
LODGE STANDING RULES
The Lodge Standing Rules are the rules that govern our Lodge and our standard operating procedure.
Download Standing Rules (PDF 330KB)
VOICE OF THE BROTHERHOOD NEWSLETTER:
The printed newsletter of Wauna La-Mon'tay Lodge:
Current Issue: Spring 2015 VOB (PDF 895KB)

WHERE TO GO CAMPING GUIDE:
The lodge has developed a resource for Scouting leaders - a guide of camping destinations for unit camping activities.
PAPER MEMBERSHIP RENEWAL FORM:
Members may renew their OA membership using a paper form or online (see next item). The paper form may be more convenient if you need to renew several persons. To do so, attach a list of members to be renewed, including any changes to address/phone/email so that the lodge is mailing to correct addresses.
ONLINE MEMBERSHIP RENEWAL:
Renew your lodge membership online. You will need name, date of birth, district and unit information and any changes in address/phone/email. Payment is done online in this option. If you would rather not renew online, or have several members to renew, the paper form may be a more convenient option (see previous item).
QUESTIONS?
Contact Lodge Adviser
Dick Phillips
at This email address is being protected from spambots. You need JavaScript enabled to view it.